How to do Bulk WhatsApp Broadcasting without getting blocked
How to send a WhatsApp Broadcast with Chatjy?
WhatsApp Broadcasting in Bulk is a great strategy to reach hundreds of Thousands of Users in one go. This is because Messages sent on WhatsApp have:

98% Open rates (10x more than emails & SMS) 45-60% Conversion rates (20x more than emails) In this blog, we'll cover everything you need to know to leverage the complete potential of a WhatsApp Broadcast for your Business.

We'll discuss how to do WhatsApp broadcasting with:

1. WhatsApp Business App

2. WhatsApp Business API
What is a WhatsApp Broadcast?
A list of individuals who regularly receive messages from your company on WhatsApp is what WhatsApp Broadcast essentially is. You can broadcast messages to an unlimited number of users at once with a WhatsApp Broadcast using the WhatsApp Business API, including those who haven't added you to their contacts list.

WhatsApp Broadcast and Group messages are often mixed up. Users get messages in private chat and are unable to see the names and phone numbers of other recipients when using WhatsApp Broadcasts, though.

Including the newest products, product-related data, delivery updates, newsletter signups, and more.

Using the WhatsApp Business API, the following is an example WhatsApp Broadcast Message:
As seen in the image above, our client PIE Hotels delivered a WhatsApp Business Broadcast outlining the most recent hotel stay deals. If they sent this message to 100,000 users, 98,000 of those users would have opened it, according to the average WhatsApp message open rate of 98%.

You can send these broadcast messages using WhatsApp Business or WhatsApp Business API, depending on the size of your company's activities.

While WhatsApp Business API is the recommended option for medium and big organisations wishing to reach a mass audience on WhatsApp, WhatsApp Business prioritises small businesses like local manufacturers and retail stores. Here are a few additional WhatsApp Business API use cases.

Whatsapp Broadcast for Business is that.
How to send Broadcast message on WhatsApp Business? (for small businesses)
If you're a self-sufficient small business, WhatsApp Business is the perfect choice for sending broadcasts to your customers. WhatsApp Business is free to use, easy to set up and has an in-built Broadcasting feature available.

The Business App has a WhatsApp Broadcast limit of 256 unique users at a time. While the numbers are low, you can create multiple broadcast lists to make it work.

You can send promotional WhatsApp broadcasts with clickable links to customers. But, if it were that easy wouldn't WhatsApp had become like email; filled with spam?

Well, not exactly! Uncle Zuckerburg is smart! Since WhatsApp is strict about its users' privacy and personal space, WhatsApp Broadcast messages only reach those who have added you to their contact lists.

With WhatsApp Business App, WhatsApp Broadcasting is super easy. Follow the below steps to create a WhatsApp Business broadcast list of up to 256 contacts & send them messages:

Click the three white dots on the right side of the WhatsApp Business App & hit 'New Broadcast"Select the contacts whom you want to add to your WhatsApp Broadcast list. You can select up to 256 contacts in one broadcast list on the Business App Create the broadcast list by clicking on the green tick button. That's it!

Monitoring is easy. Look for double blue ticks in front of the chats to whom you've sent the broadcast.

You can now send & monitor WhatsApp Broadcast to contacts who have added you to their contact list.
Limitations of sending WhatsApp Broadcast through WhatsApp Business App
It's easy to share broadcasts through WhatsApp Business but is it enough to sustain your business. Let's look at some limitations of the app which might make it unsuitable for your business:

WhatsApp Broadcast limit to only 256 contacts Accessible only across 2 devices (one smartphone and one PC) No smart segregation & analysis of messages sent No feature for Chat automation, quick replies & WhatsApp chatbot integration People who haven't added you to their contacts won't receive the broadcast WhatsApp Business is more suited for individual and small business owners looking to establish their identity as a Business. However, for medium & large businesses a limit of 256 contacts only for sending broadcast messages can be a hindrance.

Numbers do matter, especially if you want to share broadcast messages in WhatsApp to a wide audience!

To serve a wider audience, you need a bigger, better platform to send broadcast messages on WhatsApp to Unlimited users (like we promised in the title)

So, what's the bigger, better solution? The answer is WHATSAPP BUSINESS API

Introduced around the same time as WhatsApp Business, WhatsApp Business API helps medium to large-sized businesses personalize their communication with clients.

With WhatsApp Business API, you can send broadcasts to up to 1,00,000 unique users, automate abandoned cart notifications & payment links, simultaneously communicate with multiple customers and provide 24×7 Customer Support with WhatsApp Chatbots and live support.

Get started with Free WhatsApp Business API.
WhatsApp Broadcasting using WhatsApp Business API
WhatsApp Business API allows businesses to send broadcast messages in WhatsApp including notifications, announcements, promotion messages and more; all in one single platform.

Here are a few benefits of using WhatsApp Business API-based platforms like AiSensy for WhatsApp Broadcasting:

Industry best- 98% open ratesSend WhatsApp Broadcast to Unlimited UsersPeople who haven't added you to their contacts will receive the WhatsApp BroadcastTrack in-depth Analytics for your WhatsApp BroadcastSend WhatsApp Retargeting Campaigns to a particular audience groupProvide live chat support on multiple devices using the same phone numberInstall WhatsApp Chatbot to automate general customer queries Moreover, it's better than WhatsApp Broadcast in WhatsApp Business app because:

It allows you to deliver bulk messages to up to 1,00,000 unique usersYou can send messages to people who haven't saved your contactsGet official Green Tick Verification from WhatsApp. All that comes later!

First, you need to take your business to WhatsApp Business API. However, the Business API doesn't have a unique interface.

You need a platform like AiSensy to utilize the benefits of WhatsApp Business API and more.
WhatsApp Broadcast using Chatjy Platform
Chatjy is a WhatsApp Marketing platform built on the official WhatsApp Business API.

Key features of Chatjy include:


WhatsApp Broadcasting to UNLIMITED users in one go
Automate notifications for Abandoned Cart, Order confirmation, payments & more
Live Chat & WhatsApp Chatbot Automation for customer support
Friendliest customer support (24×7)Zero Setup fee
Live-chat Dashboard with smart audience segmentation feature
WhatsApp Broadcast through WhatsApp Business API with Chatjy
To send a WhatsApp Broadcast using WhatsApp Business API, signup on Chatjy.
We have already created a dedicated page on how to apply for WhatsApp Business API with Chatjy. So, here's a brief on how to do it!
Just follow these steps:
Head to the Chatjy platform and sign up by clicking hereNow, fill in personal details including name, business number and company name.You'll enter a 14-Day Free Trial on Signing up.Once you sign up, create a project and name it. You can name it anything from your company name to your department name if you want separate APIs for different departments. Apply for WhatsApp Business API from Chatjy Dashboard
That's it! Within 1-2 days, you'll get approval from WhatsApp! (At times, you get approved within 10 minutes)
Now, that that's clear, let's head on to how to share WhatsApp Broadcast messages with Chatjy.
There are two ways to shoot broadcast messages in WhatsApp via Chatjy. These are:
Method 1- Through Contact Page
Step 1: Filter the customers based on various parameters. You can
filter using parameters such as organic, ads, active, closed as shown in the image below
‍.
Step 2: Now, select all the filtered down users and click on the "Broadcast" button as shown in the image below
‍.
Step 3: Select the WhatsApp broadcast message you want to send
and hit, "Send now" to shoot the broadcast as shown in the image
below
‍.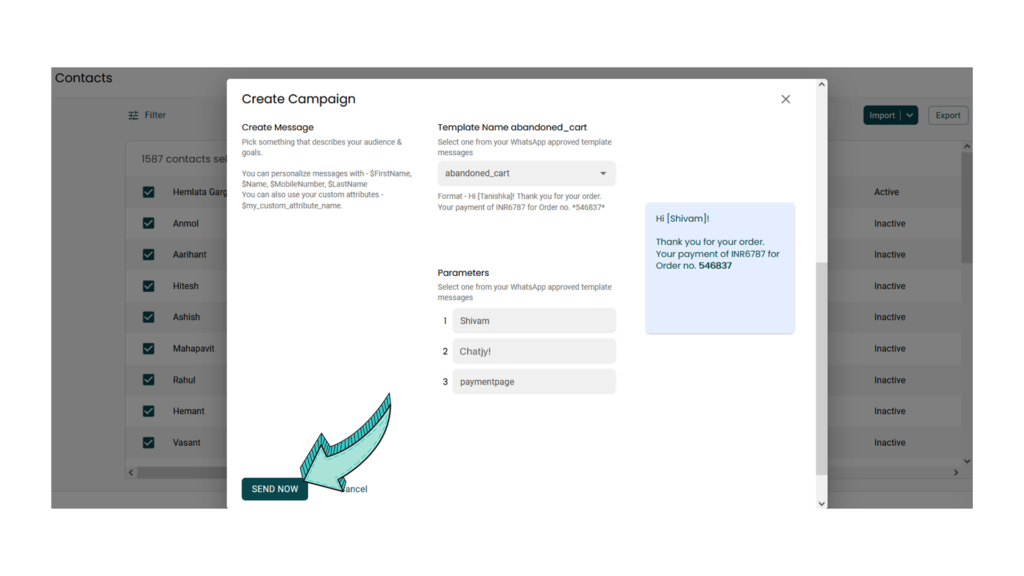 We've chosen payment reminder as the WhatsApp Broadcasting message.

As we fill '$Firstname' inside Parameter 1, it'll reflect in the template message on the right side. These dynamic values are personalization parameters for each user.

If you write, "$Firstname' besides 1, every customer will receive the message with their first name.

Configure all parameters based on the use case and intent of the WhatsApp Broadcast. Take time and do this step carefully as once you hit send, there's no reversing it!
Step 4– Finally, hit the 'Send now' button to live the broadcast to your users.

Bigger broadcasts up to 10,000 messages can take up to 2 hours to successfully execute while smaller broadcasts upto 1000 messages take around 5-10 minutes to deliver to customers.
Method 2- WhatsApp Broadcasting through Campaign Page
To launch a WhatsApp Broadcast from the campaigns page, hit the '+launch' button on the top right corner and choose 'Broadcast'. Now, follow the below steps:


Step 1: Choose a campaign name that best describes the broadcast or your end goals.
Step 2: Select between pre-approved template messages or regular messages that you want to broadcast to users. Template messages need to be approved from WhatsApp to send to users.
Regular messages can be any message you draft and send to users who have connected with you in the past 24 hours. Messages can include text, media, images, videos, CTA buttons, quick replies and much more.

Step 3: Now, segregate your audience and choose the contacts to whom you wish to send the WhatsApp Broadcast.
Step 4: Pick a pre-approved template message or create a regular message and configure the parameters just like we did while sending broadcasts through the contacts method.
Step 5: Configure & preview the selected message and click "Broadcast" to launch the WhatsApp Broadcast Campaign.
Tracking the performance of WhatsApp Broadcast is equally important as sending the broadcast.
Chatjy's intuitive dashboard allows you to monitor analytics quite easily! here's how to do it:
Go to campaigns and hit the 'eye' button on the left side of each campaign.
You'll see analytics like the ones shown in the image below
Here, you can view how many people the campaign was sent or failed to send, deliver, read and enqueued.

That's it!

Your message will reach your customers immediately.

But, you cannot start sending messages to 100, 000 unique customers from the beginning. You'd need to convince WhatsApp that you're credible. You'd have to win the three tiers of trust:


1st tier– In 1st tier, you can only send messages to 1000 unique users in one day. There's no limit to the number of messages you can send until the number exceeds 1000 unique users. If you send the message to 1000+ users, only 1000 will receive the message within 24 hours. Others will receive it the next day.
2nd tier– Businesses can send messages to 10,000 unique users in the 2nd tier.
3rd tier- This tier allows businesses to send a broadcast to 1, 00,000 unique users.
4th Tier – This ultimate tier allows businesses to send WhatsApp Broadcast to UNLIMITED users in one go
How to reach the 4rd tier from the 1st tier? You can only do it when:


The quality rating is not low
The cumulative amount of unique users the business sends notifications to ads up to twice the current messaging limit within 7 days.
Check out how to upgrade your WhatsApp Broadcast Tier easily.
How to send Retargeting WhatsApp Broadcast Campaigns?
Now that you're familiar with the basics of WhatsApp Broadcasting, let's deep dive into the newest AiSensy feature that allows you to Retarget the right set of audiences.

WhatsApp Retargeting Campaigns allow you to retarget a particular set of users by sending them a WhatsApp Broadcast Campaign.

Now, let's say you wish to Broadcast a message:

To only those who have Read your previous campaign orTo those who responded to the Broadcast with a particular replyUsers to whom the previous message was delivered but didn't read it!
You can do it in a jiffy with AiSensy.

All you need to do is go to a particular WhatsApp Broadcast Campaign, select an audience group (e.g. People who replied to a particular message) & send the Retargeted WhatsApp Broadcast.

Below is an example of a WhatsApp Retargeting Campaign sent to users who read and did not read the WhatsApp Broadcast message.